The Frank Howard Lecture Distinguished Lecture Series
---
THE FRANK HOWARD DISTINGUISHED LECTURE SERIES
Sponsored by
GW School of Engineering and Applied Science
GW Engineer Alumni Association
GW Alumni Association
ROBOTIC EXPLORATION OF THE MOON: PREPARING THE WAY FOR HUMAN RETURN
Dr. Paul D. Spudis
Applied Physics Laboratory
The new vision for space exploration calls for humans to return to the Moon sometime in the next decade. Visiting the Moon extends human reach beyond low Earth orbit and offers new material and energy resources for creating new space faring capabilities. In several future missions, robots will collect knowledge and create infrastructure on and around the Moon. The robots will orbit and land on the Moon and focus on its poles, which contain volatile substances of great value and an energy-rich, benevolent environment in near-permanent sunlight. Robotic missions to the Moon are crucial to gathering information about how people and machines can be utilized to explore and utilize planetary surfaces.
Wednesday, October 11, 2006

Media and Public Affairs Building, Jack Morton Auditorium
805 21st Street, NW
Washington, DC

6:00 pm: Reception on the 2nd floor
7:00 pm: Lecture in the Jack Morton Auditorium

FREE OF CHARGE

Parking is available for a fee at 800 21st Street NW
Please RSVP by Wednesday, October 4, 2006, to SEASALUM@gwu.edu (please indicate Frank Howard Lecture in the subject line and include the names and number of people in your party), or by phone to the SEAS Advancement and Alumni Programs Office at 202-994-8474.
---
Bio of Dr. Paul Spudis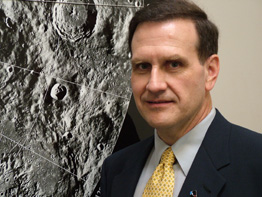 Dr. Paul D. Spudis is a Principal Professional Staff member at the Johns Hopkins University Applied Physics Laboratory in Laurel, Maryland, and Visiting Scientist at the Lunar and Planetary Institute in Houston, Texas. A geologist, Dr. Spudis received his education at Arizona State University (B.S., 1976; Ph. D., 1982) and Brown University (Sc.M., 1977) and specializes in research on the processes of impact and volcanism on planets. He has served on NASA's Lunar and Planetary Sample Team (LAPST), which advises allocations of lunar samples for scientific research; the Lunar Exploration Science Working Group (LEXSWG), which devised strategies of lunar exploration; and the Planetary Geology Working Group, which monitors the direction of the planetary research community. He has been a member of the Committee for Planetary and Lunar Exploration (COMPLEX), an advisory committee of the National Academy of Sciences, and the Synthesis Group, a White House panel that in 1990-1991 analyzed a return to the Moon in order to establish a base and the first human mission to Mars.
Dr. Spudis was deputy leader of the Science Team for the Department of Defense Clementine mission to the Moon in 1994 and is the principal investigator of an imaging radar experiment on the Indian Chandrayaan-1 mission, to be launched to the Moon in 2007. He also served as a member of the President's Commission on the Implementation of U.S. Space Exploration Policy, and received the NASA Distinguished Public Service Medal for his work on that body.
He is the recipient of the 2006 Von Karman Lectureship in Astronautics, awarded by the American Institute for Aeronautics and Astronautics. Dr. Spudis has written and collaborated on more than 150 scientific papers and three books, including The Once and Future Moon, a book for the general public in the Smithsonian Library of the Solar System series, and (with Ben Bussey) The Clementine Atlas of the Moon, published in 2004 by Cambridge University Press.
---
History of the Frank Howard Distinguished Lecture
The Frank Howard Distinguished Lecture Series is an endowed lecture fund established in 1945 by a gift from its namesake, a GW alumnus, trustee of the University, and president of the Standard Oil Development Company. The Frank Howard Distinguished Lecture Series brings outstanding leaders of science and industry to GW to discuss timely topics in engineering and allied subjects.
Past lecturers include acclaimed scientists Dr. Werner Von Braun, Dr. Edward Teller, and Dr. W. Edwards Deming; Nuclear Regulatory Commission Chairman Dr. Shirley Jackson; U.S. Representative Clifford Stearns; former Lockheed Martin Chairman & CEO Norman Augustine; and structural engineer of the World Trade Center, Leslie E. Robertson, P.E.
---
Support of the Frank Howard Distinguished Lecture
To continue the legacy to bring outstanding leaders of science and engineering to the GW School of Engineering and Applied Science, we invite you to contribute to the Frank Howard Distinguished Lecture Fund. Anyone interested in making a donation may contact Anita Ponchione, associate director of advancement, SEAS at 202-994-9866 or apytlarz@gwu.edu.
To make a gift online, please visit http://www.gwu.edu/give2gw and please make sure to designate your gift to the Frank Howard Distinguished Lecture Fund. Or, click here to download a gift form.
---
Frank Howard Distinguished Lecture Committee
Bob Kemelhor, BS '49
Sean P. Walsh, BS '76
---
Engineer Alumni Association
The George Washington Engineer Alumni Association (EAA) was founded to: promote engineering education at the University, unite members in close fellowship, promote the general welfare of the School of Engineering and Applied Science, foster activities of the engineering organizations recognized by the University, and advance the profession of engineering.
The leadership of the EAA is comprised of a Board of Directors and the following committees: Executive; Admissions and Science Fair; Awards and Scholarship; Board Recruiting and Nominating; By-laws; Finance; Programs; and Publicity/Communications.
Alumni interested in getting involved with the Engineer Alumni Association should contact Anita Ponchione, associate director of advancement, SEAS at 202-994-9866 or apytlarz@gwu.edu.