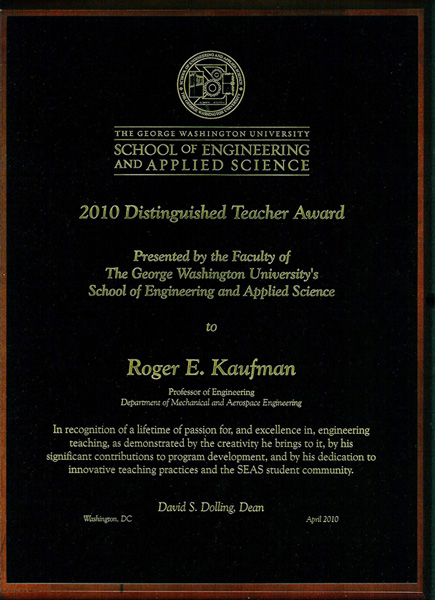 ---
Award Announcement by Dean David Dolling
The Committee selected Professor Roger Kaufman as the winner of the 2010 SEAS Outstanding Teaching Award for Professors and Associate Professors. This year they did not recommend a winner for the junior award. The committee felt that the two nominees, who had been in rank a short period, had gotten off to a terrific start here in SEAS with classroom teaching and that once their credentials were "rounded out" through student mentoring, course development, and innovative teaching practices that they would be very strong contenders for this award. I would add, as I always do, that it is an honor just to be nominated for one of these awards.

Please join me in congratulating Roger. This award caps a career of distinguished teaching. I have pasted in below the committee's citation, along with some sample comments attesting to Roger's expertise and dedication. The last comment is particularly inspirational. What more could one want students to say about you?

The committee recommended Roger Kaufman for the teaching award based on not only his classroom teaching, but his significant contributions to program development, scope of courses taught, passion for teaching, student advising, innovative teaching practices, and student mentoring and service to the student community. As noted in some of the testimonials:
He made his classroom an experiment for a new teaching concept: rigorous engineering should be fun. He patterned his humor after Dr. Seuss' children's books with his own sketches, but with a sophistication that was well received by students.
Creativity has been a major central theme of Prof. Kaufman's professional career.
Prof. Kaufman's approach to rigorous engineering combined with fun has made him a central figure over the years in major competitive projects which have been the centerpiece of our MAE programs, e.g. Mini Baja, GW Float for the Presidential Inauguration parade in 2008.
He wouldn't challenge the students to complete a major design project without also assigning or competing in the project himself. It's always a good motivator to try and beat Prof. Kaufman at his own game.
My highest aspiration is to someday become as good a teacher as Prof. Kaufman.