This clip was edited and compressed by Roger E. Kaufman from the full NPR broadcast production
---
BF GOODRICH ANNOUNCES 1998 WINNERS IN
NATIONAL COLLEGIATE INVENTORS PROGRAM
AKRON, Ohio - September 8, 1998 - The BFGoodrich Collegiate Inventors Program has announced the winners in the 1998 national invention competition. The program is sponsored by The BFGoodrich Company, a leading provider of aircraft systems and services and a manufacturer of performance materials, and administered by Inventure Place, home of the National Inventors Hall of Fame.
This year's competition drew entries from 52 colleges and universities across the nation. Winning students are from Yale University, the University of Virginia, the University of Florida, The University of Arizona, California Polytechnic State University - San Luis Obispo, and The George Washington University.
Entries were judged by a panel of eight national judges, who are leaders in the fields of mathematics, engineering, applied sciences, computers and medicine, or specialists in creativity and invention.
Winners will be recognized at the annual BFGoodrich Collegiate Inventors Program Awards Luncheon on September 18 at the Quaker Square Hilton in Akron. The luncheon is part of Induction Weekend for the National Inventors Hall of Fame.
BFGoodrich Chairman and CEO David L. Burner said, "The creative thinking and can-do attitudes of these students are an inspiration. They should encourage all of us to explore the wonders of science and technology." Burner will host the awards luncheon.
The following are the winners and their inventions:
ALL-COLLEGIATE CATEGORY
Jin-Ping Han, Yale University. "A New Dynamic Random Access Memory
(DRAM) Cell." This invention is a new kind of DRAM cell for semiconductors. The capacitor-less DRAM cell offers more efficient use of cell space, faster operating speed, longer data retention and lower power consumption than conventional DRAM cells. Advisor: Tso-Ping Ma, Professor of Electrical Engineering.
Rohini Muthuswami, University of Virginia. "Phosphoaminoglycosides: Potentially Curative Strategies of Chemotherapy for End-Stage of Hormonally Refractive Cancer." Muthuswami discovered that aminoglycoside derivatives (phosphoaminoglycosides) resulted in complete remission of human tumors implanted in mice. They work by inhibiting certain DNA-dependent enzymes in cancer cells without causing cell death in non-tumor tissues. Advisor: Joel W. Hockensmith, Associate Professor of Biochemistry and Assistant Dean for Graduate Research and Training.
Jeffrey C. Petruska, University of Florida. "Method and Apparatus for Selectively Inhibiting Activity in Nerve Fibers." Petruska invented a method and device to selectively block nerve impulses. This will allow medical professionals to temporarily and safely block nerve conduction
under certain conditions, such as spinal cord injuries. Advisor: Richard D. Johnson, Associate Professor of Physiological Sciences.
UNDERGRADUATE CATEGORY
David W. Burke (teammates Tamas Andor, Masayoshi Tsukioka and Won Joon Chang), The University of Arizona. "Flexible Rear Suspension for a Jeep 4 x 4." This suspension system allows a Jeep 4 x 4 to drive over rough terrain with minimal risk of rollover. Its springs, unique control link system and shock absorber support system allow all four tires to remain in constant contact with the terrain. Advisor: Rudolph A. Eisentraut, Adjunct Professor, Department of Aerospace & Mechanical Engineering.
Zachary C. Hoisington, California Polytechnic State University , San Luis Obispo. "Variable Surface Area Parafoil." Hoisington's device improves the performance and stability of a parafoil, a special type of powered parachute that looks like a wing. The Variable Surface Area Parafoil (V-SAP) allows paragliders to change the surface area of the wing in flight. Skydivers can glide to a safe landing even after traveling at high speeds. On a larger scale, parafoils have potential
airplane, military and space travel applications. Advisor: Russell M. Cummings, Professor of Aeronautical Engineering.
Martin B. Montague, The George Washington University. "Virtual Roll Suspension/Drive." This rear-end suspension/drive system improves the performance and roll stability of all-terrain vehicles (ATVs). In addition to improving rider safety, this design decreases the number of components and their space requirements. Advisor: Roger E. Kaufman, Professor of Engineering.
All winners and their faculty advisors receive a crystal award. In addition, winners in the All-Collegiate category earn a cash prize of $7,500 and their advisors receive $2,500. Undergraduate winners receive $3,000, with their faculty advisors receiving $1,000.


---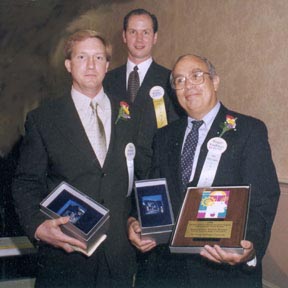 Return to Roger E. Kaufman Homepage