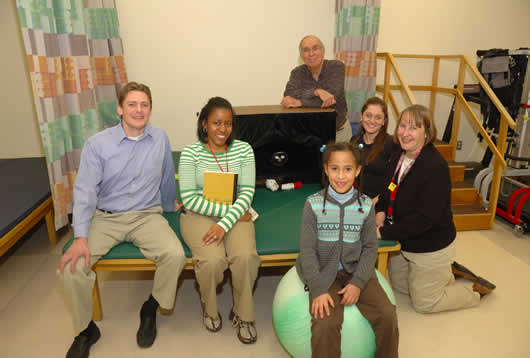 ---

G.W. students are working with therapists at Children's Hospital to develop "toys that teach", "toys that rehabilitate". We are looking for volunteers. With a bit of ingenuity and a dollop of time and effort you can make a difference. Professor Roger Kaufman of the MAE Department is advising a joint project to develop simple, low-cost therapeutic devices for eye-hand coordination training, muscle strengthening, memory training, feeding, communication, etcetera. These might turn out to be electro-mechanical gadgets, they might be high-tech, or they might just be useful variations of old principles but adapted to fit the specialized needs of a particular child with cerebral palsy or some other handicap. You don't need to be an engineer to participate. Just a gadgeteer, a craftsman, or someone willing to try. We have suggestions for projects and will help with tools and materials but we won't know what results until we see what you come up with!
For more information contact
Professor Roger Kaufman, kaufman1@gwu.edu
First lady Michelle Obama has challenged George Washington University students, faculty and staff to contribute 100,000 hours of community service this school year. This project, Bridging the Gap: Creative Technological Aids for Children with Neuromuscular Handicaps, can help us meet that goal. The GW Office of Community Service will track and record your hours of pro-bono service through their volunteer web site (https://gw.volunteermatch.org/) and we have a modest amount of funds to provide needed materials and supplies. Contact me at kaufman1@gwu.edu to sign up!
---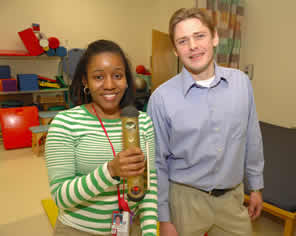 Josh O'Briant shows Occupational Therapist Tiffany Howard the pronation/supination wand he designed and built. The wand senses the orientation of the patient's hand and lights up in red or green when it is properly aligned.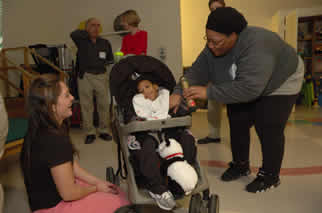 A delighted young patient watches Josh's wand light up in his hand.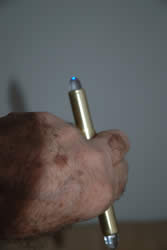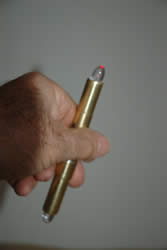 Here's a second-generation infant-sized version of Josh's pronation/supination wand designed and built by Roger Kaufman.
---
Professor Kaufman's "Betcha can't find me in the dark" is an electromechanical eye-hand coordination trainer. When the child aims Snoopy's nose at the center of the face in the "puppet theater" he or she is rewarded with a light show of twirling LED's and the face runs away to a new random location. As the child's coordination improves, he or she can continuously chase the face and get a visual reward. If the child hasn't managed the task for some time, the face in the dark will blink its eyes to catch the child's attention again. Squeezing Snoopy's belly shines a laser beam at the face in the dark!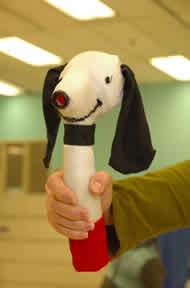 ---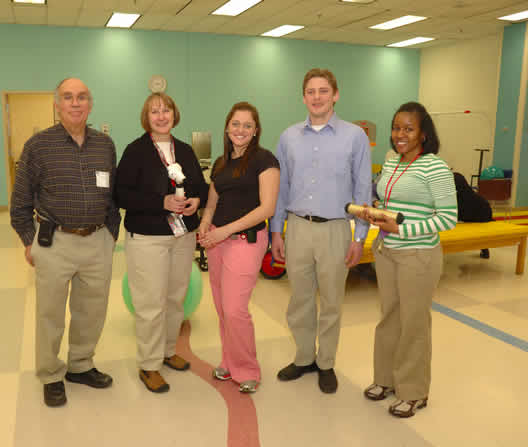 Professor Kaufman with Anne Conway, RPT, the Director of the Department of Physical and Occupational Therapy, Rebecca Glickman, PT, Josh O'Briant, and Tiffany Howard, OT.
---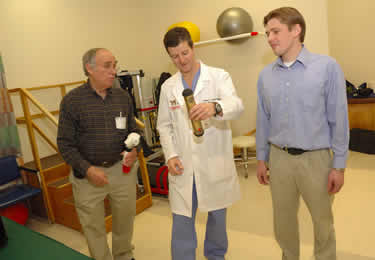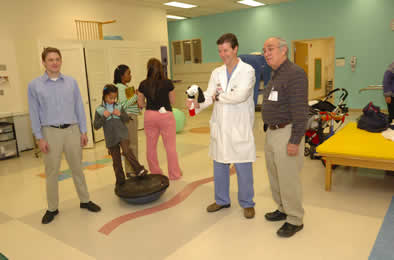 Anthony Sandler, the Chief of Pediatric Surgery at CHNMC trying out Josh's pronation/supination wand and Roger Kaufman's Snoopy-activated "Betcha can't find me in the dark" coordination trainer. Good eye-hand coordination is a very desirable thing for a pediatric surgeon!

---
---
Here are some other therapy devices my students have developed in the past:
Biomedical engineering of aids for the handicapped
---